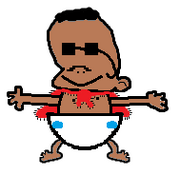 Name: Super Science Baby
Secret Identity:Billy Snikson
Species:human
Gender:male
Powers and Abilities:flight,super strenghth,super smarts,telekinesis, and telepathy.
Equipment: siencey stuff.
Weaknesses:dumb adults
Strengths:None
Archenemy:super sientist adult
Team:X Squad
Facts:
He is the couson of super diaper baby
Has a baby kitten named "Super Science Kitten"
Ad blocker interference detected!
Wikia is a free-to-use site that makes money from advertising. We have a modified experience for viewers using ad blockers

Wikia is not accessible if you've made further modifications. Remove the custom ad blocker rule(s) and the page will load as expected.